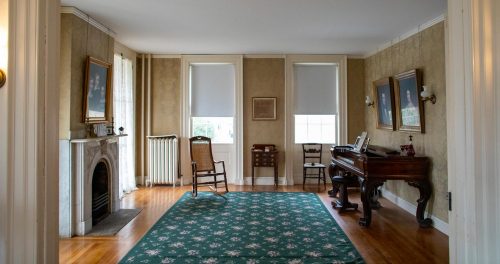 The Props assist the House
Until the House is built
And then the Props withdraw
And adequate, erect,
The House support itself
– (fragment F729)
VIRTUAL PROGRAM
This program is free of charge, but participants must register in advance and donations are encouraged.
Thursday, July 15, 6-7pm
REGISTER FOR THIS PROGRAM
In the first of a three-part series, go behind the scenes of the restoration of Emily Dickinson's home with Museum Director Jane Wald. The Emily Dickinson Museum is currently embarking on the most significant 
restoration project
 to date of the interior architectural features, finishes, and furnishings of the revered poet's Homestead. This work will not only triple the amount of restored space in the Homestead accessible to guests, but will also add critical details to our understanding of Dickinson's daily life by providing a more authentic experience of the house she inhabited. In this virtual program, learn how the documentary record yields clues about this historic house and hear first-hand about the research and decisions that go into restoration work.
Jane H. Wald is Executive Director of the Emily Dickinson Museum. Before beginning her tenure at the Dickinson sites in 2001, she worked at Old Sturbridge Village in Sturbridge, Massachusetts. In her tenure at the Emily Dickinson Museum she has been led several major restoration and documentation studies of the houses, including the reconstruction of the poet's conservatory, restoration of the poet's bedroom and library, restoration of the Dickinson hedge and fence, and the creation of the Dickinson property Cultural Landscape Report and The Evergreens Historic Structures Report. Wald is the author of "'Pretty much all real life': The Material World of the Dickinson Family," in the Blackwell Companion to Emily Dickinson (2008), and "The 'Poet Hunters': Transforming Emily Dickinson's Home into a Literary Destination," in the Emily Dickinson Journal (2018).