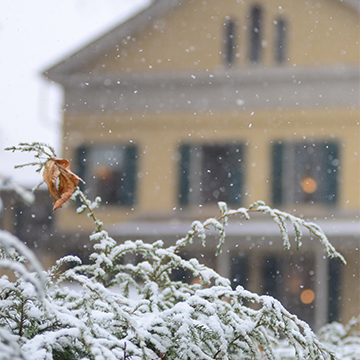 You are cordially invited to the Emily Dickinson Museum's virtual celebration of the poet's 190th birthday! On Thursday, December 10, join us for an afternoon of fun including a team bake of Dickinson's famous Black Cake, a make-at-home craft demo, music, an aerial journey over Amherst, screenings of videos from our "My Emily Dickinson" collecting project, special guests from Apple TV's Dickinson, and finally the singing of the birthday song. 
Don't forget to sign the virtual guest-book, and be prepared for poll questions along the way!
All are welcome to this free program but registration is required. CLICK HERE TO REGISTER. 
A 'My Emily Dickinson' Do-At-Home Craft:
During this time of celebration, we are excited to share with you this color-by-numbers activity created specifically to celebrate Emily Dickinson's 190th birthday.  The link below includes a color-by-numbers image based on Dickinson's most iconic photograph, a daguerreotype included in Millicent Todd Bingham's gift of Dickinson material to Amherst College in 1956.  Additionally, you will find a list of suggested colors and instructions to help you get started.   
Emily Dickinson Color By Numbers Activity Kit
We hope you enjoy creating your own Emily Dickinson portrait masterpiece!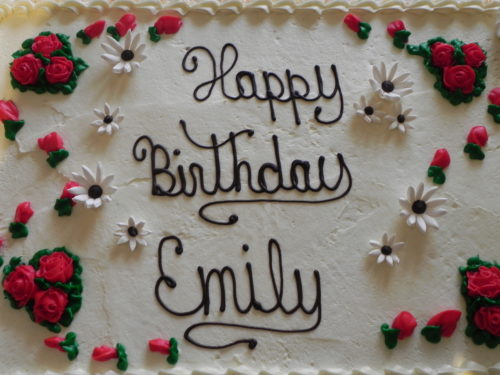 About Dickinson's Birthday
Emily Dickinson, the middle child of Edward and Emily Norcross Dickinson, was born on December 10, 1830, in the family Homestead on Main Street in Amherst, Massachusetts. She celebrated 55 birthdays before her death in 1886. As an adult she wrote, "We turn not older with years, but newer every day." (Johnson L379)
Give a Birthday Gift
It's not a birthday party without gifts! Although many of the Museum's online programs are free of charge, if you're looking to honor Emily with a birthday present, please consider a donation to our Annual Fund. The museum's mission is not possible without your support. Your donation will go directly towards the study, preservation, and celebration of Emily Dickinson's life and work.
Special thanks to these partners in our Birthday Celebration:
James Arnold
Steven Glazer and Students
Emily Walhout and the Houghton Library at Harvard University
Apple TV's 'Dickinson'
Consulate General of Israel to New England