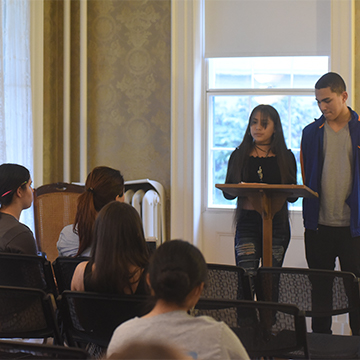 Monthly Amherst Arts Night Plus at the Emily Dickinson Museum celebrates contemporary art and poetry in our historic setting. From 5:00 – 8:00 p.m., view the pop-up, contemporary art exhibition in the Homestead by our monthly featured artist. Poets, writers, and performers of any kind are welcome to share work at our open mic, which begins at 6:00 p.m. Stay after the open mic for the featured reader of the month. Open mic sign-ups are between 5:00 and 6:00 p.m.. This program is free and open to the public.
Featured Poet: Karen Skolfield
Karen Skolfield's book Battle Dress (W. W. Norton, 2019) won the Barnard Women Poets Prize. Her book Frost in the Low Areas (Zone 3 Press) won the 2014 PEN New England Award in poetry and the First Book Award from Zone 3 Press, and is a Massachusetts "Must Read" selection. She is the poet laureate for Northampton, Massachusetts, for 2019-2021.
Skolfield is the winner of the 2016 Jeffrey E. Smith Editors' Prize in poetry from The Missouri Review, the 2015 Robert H. Winner award from the Poetry Society of America, and the 2015 Arts & Humanities Award from New England Public Radio. She's received fellowships and awards  from the Massachusetts Cultural Council, Split This Rock, Ucross Foundation, Hedgebrook, Virginia Center for the Creative Arts, and the Vermont Studio Center. Skolfield is a U.S. Army veteran and teaches writing to engineers at the University of Massachusetts Amherst, where she earned her Master of Fine Arts.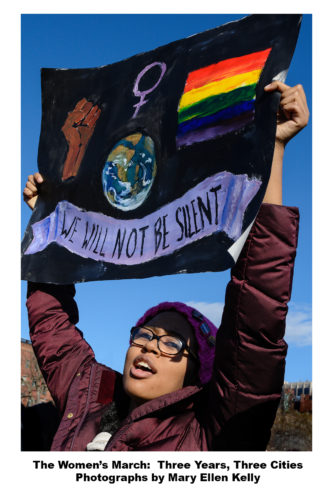 Featured Artist: Mary Ellen Kelly
Mary Ellen Kelly is a western Massachusetts photographer and former professor of literature at Greenfield Community College. This body of work captures three years of the Women's March in three different cities: Boston, New York, and Washington DC. Kelly says, "A feminist, writer, and amateur photographer, I continue to research, photograph, and write about this protest that demands inclusion and safety for all and celebrates the voices of women and our allies. While much work still needs to be done to keep the dialogue open and ongoing, I have hope that this Women's March movement can produce dramatic and positive change."