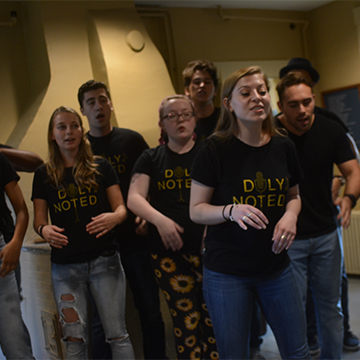 Monthly Amherst Arts Night Plus at the Emily Dickinson Museum celebrates contemporary art and poetry in our historic setting. In May we take this monthly event remote with readings by members of the Florence Poets Society!
Join us at 6:30PM for a remote reading from 10 members of the Florence Poets Society. The Society was founded in 2004 and publishes an annual review called Silkworm. This program will feature short readings by the following poets:  
Rosie McMahan breathes and writes and walks and gardens on the steppingstones of her life in the Pioneer Valley of Massachusetts, trying to remember that every day is a new day.
Rich Puchalsky is a freelance librarian.
Marian Kent is the author of three poetry collections, Heart Container, SUPERPOWERS or: More Poems About Flying, and Responsive Pleading. She lives in Easthampton, MA with her family. You can follow Marian's poetry and other missives at www.runawaysentence.com
Lanette Sweeney of South Hadley, MA, is a full-time writer thanks to her wife's support; a published poet, fiction and essay writer; a novelist-in-progress; and a current MFA student at Western New England University.
Eileen P. Kennedy's Banshees (Flutter Press, 2015) was nominated for a Pushcart and awarded Second Prize from the Wordwrite Books Award in Poetry. Her second collection, Touch My Head Softly is due out from Finishing Line Press in 2021. She lives in Amherst, MA with the ghost of Emily Dickinson. More at EileenPKennedy.com.
Howie Faerstein's most recent book is Googootz (Press 53). He presently volunteers as a mentor at the Center for New Americans and is co-poetry editor of CutThroat, A Journal of the Arts.
Brooks Robards has published five volumes of poetry including On Island. She has recently been published in periodicals: Avocet, Aurorean, Plainsongs, Fulcrum and Equinox. She lives in Northampton, MA, and summers on Martha's Vineyard.
Linda Bratcher Wlodyka of Cheshire, MA likes to think someone out there in poetry land is wowed or entertained by her poems. That is what really matters to her.
Michael Favala Goldman is a widely-published translator of Danish literature and  a jazz clarinetist.  His new book of poetry is Who has time for this? www.hammerandhorn.net
Lori Desrosiers' poetry books are The Philosopher's Daughter, Sometimes I Hear the Clock Speak and Keeping Planes in the Air, all from Salmon Poetry. Two chapbooks, Inner Sky and typing with e.e. cummings, from Glass Lyre Press. She edits two journals: Naugatuck River Review, a journal of narrative poetry and Wordpeace.co, an online journal dedicated to social justice.
Enjoy a recording of this past program:
Amherst Arts Night Plus – May 7, 2020

Amherst Arts Night Plus at the Emily Dickinson Museum celebrates contemporary art and poetry in our historic setting. In May we took this monthly event remote with readings by members of the Florence Poets Society! Don't miss this reading by ten area poets, who share their experiences and inspiration in the time of quarantine.

Posted by The Emily Dickinson Museum on Wednesday, May 20, 2020
Posted by The Emily Dickinson Museum on Wednesday, May 20, 2020