Thursday, October 4 through Saturday, October 6, 2018 
"A unique, phenomenal, and deeply treasured experience."
– Len Berkman, Smith College Professor of Theater
It took eight years of correspondence before Thomas Wentworth Higginson arrived in Amherst to meet his elusive advisee, Emily Dickinson. Before You Became Improbable reimagines the day of that meeting, offering audience members an encounter with her words and poems in a remarkably personal theatrical experience. This immersive journey returns to the Emily Dickinson Museum in October after sold-out productions in 2014 and 2015.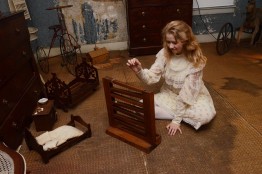 Before You Became Improbable is not a stationary production, but a walking theatrical journey throughout downtown Amherst, en route to the Dickinson grounds.  Equipped with a special pair of headphones, audience members are guided carefully through the show, following a path visible to only them, leading them through a series of compelling encounters. The journey ends in the Dickinson parlor, where participants gather to share insights and experiences with the playwright and each other. Designed as an experience for two people at a time, audience participants should come prepared with comfortable shoes, the willingness to walk for much of the show, and a venturesome spirit.
Before You Became Improbable is written and directed by Amherst Regional High School Performing Arts Department Head John Bechtold and produced by Wendy Kohler and the Emily Dickinson Museum. It runs Thursday through Saturday (with a Sunday rain date), with one or two participants departing every four minutes between 6:30 p.m. and 8 p.m. at the Emily Dickinson Museum, located at 280 Main Street in downtown Amherst.
Accessibility:
The production involves walking approximately one mile over the course of about 1 hour. Participants are standing most of the time when not walking, though there are at least three opportunities along the way for a sit-down of about 5 minutes each. Some of the terrain where participants walk is uneven, such as a grassy lawn, the rest of the time participants are on sidewalks and must be aware of curbs. At one point there is a short uphill walk on asphalt—perhaps 30 yards at a 10 degree rise. There is also the walk down Main Street from town to the museum that has a gradual downward slope. There are perhaps three points when participants must ascend and descend a set of stairs—the longest being the stairs inside The Evergreens. 
 Directed by John Bechtold
Produced by Wendy Kohler and the Emily Dickinson Museum
Location: Begins and ends at the Emily Dickinson Museum
280 Main Street, Amherst, MA
Dates: October 4-6, 2018. Participants begin the journey in pairs leaving every four minutes between 6:30 p.m. and 8 p.m.
Ticket Sales: Coming soon!