THE EMILY DICKINSON MUSEUM WILL AWARD THIS YEAR'S 'TELL IT SLANT' AWARD
TO ARTIST LESLEY DILL
The artist will receive the award at the Folger Shakespeare Library's Emily Dickinson Birthday Tribute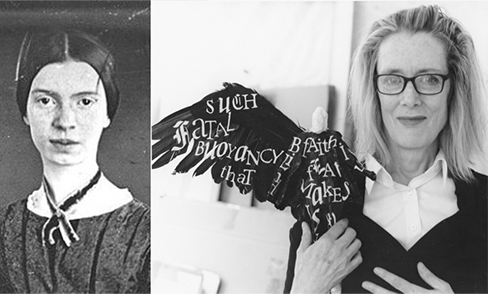 (AMHERST, Mass., October 7, 2019) – Today the Emily Dickinson Museum announced the winner of the 2019 Tell It Slant Award. The award honors individuals whose work is imbued with the creative spirit of Emily Dickinson. This year's recipient is Lesley Dill, a prominent American artist working at the intersection of language and fine art. Dill's work has been exhibited around the world, and her art is in collection at the Metropolitan Museum of Art, the Museum of Modern Art New York, and the Whitney Museum of American Art. Her opera based on Dickinson's poems, Divide Light, was performed by New York's New Camerata Opera Company in 2018. 
The Tell It Slant Award, which was created in 2012 by the Emily Dickinson Museum's Board of Governors, takes its name from the well-known poem, "Tell all the Truth but tell it slant – / Success in Circuit lies / Too bright for our infirm Delight / The Truth's superb surprise." Past award winners include Pulitzer prize-winning poet Kay Ryan, former Poet Laureate Richard Wilbur, documentary filmmaker Ken Burns, and writer and A Prairie Home Companion host Garrison Keillor. Each year, recipients are chosen from a talented and diverse pool of individuals by the Museum's board. This year's winner is particularly deserving of the award.
Lesley Dill's elegant work invests new meaning in the human form. By using paper, wire, horsehair, photography, foil, bronze, and music to convey the complexity of communication, much of her work alludes to or draws directly from the poetry of Emily Dickinson. Like the Amherst poet herself, Dill uses her provocative and intricate art to challenge the viewer to confront their linguistic relationships and perceptions of language.
"Using the written word as both a signifier and a kind of decorative motif," Michael O'Sullivan writes for The Washington Post, "Dill covers everything she does with a seeming jumble of often illegible letters. Forcing the viewer to squint, stoop and search, sometimes in vain, for recognizable sentences, the artist creates messages that are as much a kind of linguistic code—marks representing ideas—as they are mute blemishes, abstractions whose resonance has more to do with emotion than rhetoric."
If "language is just a series of symbols imbued with the meaning and power we give them," Lennie Bennett writes for The Times, then Dill's use of language as art "seeks a different affirmation, a more private pact that doesn't require one necessarily to know a language, only to understand its intent."
Dill will receive the award during the Folger Shakespeare Library's Emily Dickinson Birthday Tribute on December 9. The annual celebration brings together speakers, scholars, and fans of Emily Dickinson's work to celebrate the illustrious poet and her writing. This year's tribute will feature poet Tom Sleigh, who will read his favorite Dickinson poems and share from his own work, and Dill, who will discuss her Dickinson-inspired work. Following the presentation, the two artists will have a conversation about their shared muse.
Since its inception, the Emily Dickinson Museum has welcomed more than 150,000 visitors from 50 countries and serves as the premier center for study, interpretation, and celebration of Emily Dickinson's place in literature, history, and culture. These awards will support the Museum's mission to spark the imagination by amplifying Dickinson's revolutionary poetic voice from the place she called home. The Museum is open Wednesday through Sunday, 11 a.m. to 4 p.m. Learn more at www.EmilyDickinsonMuseum.org.