I am glad there are Books. They are better than Heaven,
for that is unavoidable, while one may miss these.
-Emily Dickinson to Frank Sanborn, 1873
The Dickinsons were readers! Books were vital – a source of pride, pleasure, discussion, and even competitiveness – among family members. Through the three decades that Emily Dickinson wrote her poetry, ample, eclectic libraries stood open to her perusal in the Homestead and The Evergreens. Today the shelves of both dwellings are bare.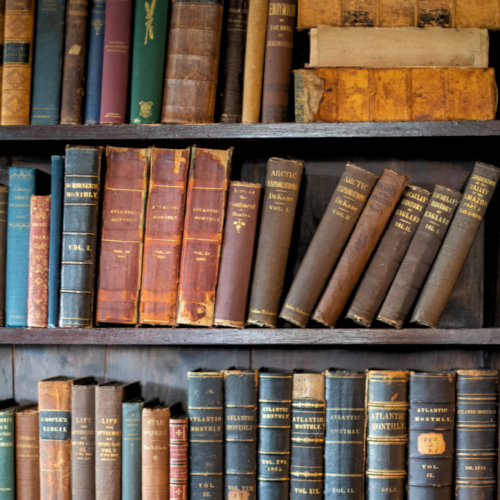 A preponderance of the Homestead's books, along with Evergreens titles having close association with the poet, became the gifted property of Harvard University in 1950. Housed at the Houghton Library, the Dickinson collection is restricted even to scholars because of its fragile condition. The remainder of the libraries of both houses was transferred in the early 1990s to the John Hay Library at Brown University, under terms of the will of Mary Hampson, legatee and last resident of The Evergreens.
Harvard owns some 560 Dickinson library titles, and Brown nearly 2000. Included in the latter group are books belonging to Samuel Fowler Dickinson, the poet's grandfather, from the time he was a student at Dartmouth in the class of 1795, and the books of six other family members, ranging from law books through histories to hymnals. At Brown is the "lonely, rigorous" reading of Edward Dickinson, the romantic boyhood books of Austin, the poetry, novels, and intellectually stimulating acquisitions of Sue, and popular classics read by Sue and Austin's children.
As the Museum looks ahead to refurnishing the Dickinson homes in keeping with their 19th century contents, we dream of restoring the books, those treasures the poet called "The strongest Friends of the Soul." Efforts to replenish the library shelves will rely upon the generosity of many friends of Emily Dickinson, some of whom themselves appreciate the pleasures of finding and purchasing the books that inspired her genius.
The Replenishing the Shelves project is dedicated to and led by Polly Longsworth, a Dickinson scholar and the first Chair of the Board of Governors of the Emily Dickinson Museum. By establishing the program in her name, the Board of the Emily Dickinson Museum acknowledges her devotion to Dickinson, her commitment to the Museum's founding and growth, and her strong interest in this experiment.
Once acquired, the books will be displayed as they were when the Dickinson family occupied their homes. A bookplate in each volume will identify both the Replenishing the Shelves project and the name of the donor of either the volume itself or the funds used to acquire it. Informative materials describing the project and its donors will be available to encourage participation by visitors, until such time as the shelves are filled.
Contribute to the collection:
Guidelines
For information about the project and giving opportunities, please contact Collection Manager Megan Ramsey, mramsey@emilydickinsonmuseum.org
Make a gift to Replenishing the Shelves
Support Replenishing the Shelves today with a gift.