Identifying and Prioritizing the Books
Advisors to the project have prepared a finding list of about 100 titles in the Dickinson family library. The list will be refreshed as purchases are made. The Museum's curators are interested in clean, tight books, not necessarily pristine, but in good condition (no mold, mildew, exposure to water), and they retain the right to accept or reject volumes purchased for the project. The books must be the edition indicated on the finding list.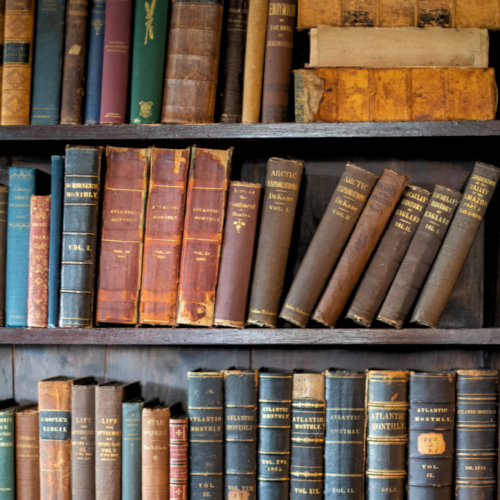 If you're interested in seeing the book list, please contact Megan Ramsey, collections manager, by emailing mramsey@emilydickinsonmuseum.org. 
Acquiring the Books
Volumes can be acquired in one of three ways:
In-Kind Book Donations.
Those knowledgeable about the collecting of rare and antique books may acquire titles from the list and donate them directly to the Museum. Before acquiring volumes, donors are urged to consult with Collections Manager Megan Ramsey mramsey@emilydickinsonmuseum.org in order to insure that no other plans for acquisition of the same volume are in process.
Monetary Donations for Specific Purchases.
Those interested in purchasing a designated volume, particularly those who have identified a potential seller and purchase price, but who wish for the Museum to make the actual purchase, may contribute that price, directing it to the purchase. Such donors should contact the Collections Manager to coordinate the purchase.
Monetary Donations to the Replenishment Fund.
Those wishing to participate in recreating the Dickinson's family library without themselves finding and buying particular volumes may contribute to the Emily Dickinson Museum Library Replenishment Fund. The gift will purchase titles for the Museum in your name. Please donate online or send your gift to Emily Dickinson Museum, Administrative Office, 20 Triangle Street, Amherst, MA 01002-5000. Earmark it for the EDM Library Replenishment Fund. 
All gifts, whether in-kind or monetary, will be promptly acknowledged with documentation sufficient to substantiate any income tax deductions allowed, except that in-kind donors will be required to obtain any required appraisals at their own expense. All books will become part of the Museum's collections, subject to its collections policies.
The reassembling of the Dickinson family library is a vital part of the Museum's mission to preserve the legacy of the Dickinson family. Few possessions meant so much. One can never, of course, read all the books Emily Dickinson read, but we welcome the support of friends as we embark on the ambitious project of reassembling those she lived with.