Categories: "Life... a thrilling premise to supremer things"
Death of Judge Otis Phillips Lord 
The earliest record of Emily Dickinson's poetry in publication. "Magnum bonum, harem scarem" is published in the Amherst College Indicator as a valentine letter.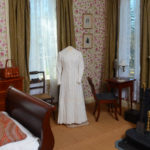 We live in an incredibly exciting time for Emily Dickinson scholarship. Through the efforts of many, Dickinson's work is thriving throughout an international readership, forever securing her a place in literature and in a wider culture.