Categories: "Life... a thrilling premise to supremer things"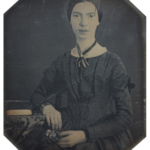 Birth of Emily Elizabeth Dickinson 
From late April to November, 1864, Emily Dickinson spends many months in Cambridge, Massachusetts for treatment of a severe, disabling eye condition. During these two months with Boston's leading ophthalmologist, Dr. Henry Willard Williams, Dickinson lives with her cousins Louisa and Frances Norcross in Cambridge. 
"The eyes are as with you, sometimes easy, sometimes sad. I think they are not worse, nor do I think them better than when I came home. The snow light offends them, and the house is bright … Vinnie [is] good to me, but 'cannot see why I don't get well.' This makes me think I am long sick, and this takes the ache to my eyes." (Dickinson, L430, 433, 439) 
Emily Dickinson's reclusiveness increases. While the origin of this departure from social life is specifically unknown, Dickinson's withdrawal from society also marks the beginning of one of her most productive times, artistically. 
"A Charm invests a face 
Imperfectly beheld – 
The Lady dare not lift her Vail – 
For fear it be dispelled – 
But peers beyond her mesh – 
And wishes – and denies – 
Lest interview – annul a want – 
That Image – satisfies-" (Dickinson, Fr430A)