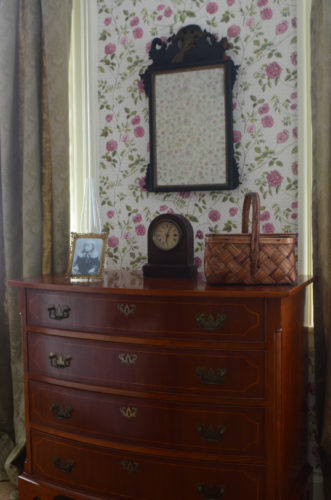 After Emily Dickinson's visits to Cambridge for eye treatment in the mid-1860s, the poet settled into a quiet, reclusive existence with her parents and sister. Although she rarely ventured beyond the family Homestead, she did entertain several significant visitors, including Thomas Wentworth Higginson, whom she met in person for the first time in 1870 when he visited her at home in Amherst. To Higginson she offered her own definition of poetry: "If I read a book and it makes my whole body so cold no fire can warm me I know that is poetry. If I feel physically as if the top of my head were taken off, I know that is poetry. These are the only way I know it. Is there any other way?" (L342a)
Although Dickinson did continue to write poetry, she appears to have stopped formal assembly of the poems into booklets. Manuscripts dated to this period appear less finished than those of her intense writing period (1858-1865), though scholars are increasingly intrigued by what these later manuscripts—some of which are written on scraps of paper—suggest about her writing process. Dickinson's work reached the eyes of several writers and publishers who did express interest in publishing her work. In 1875 Higginson read a few poems by "Two Unknown Poetesses" to the New England Woman's Club, and one of the "poetesses," who were not named during the reading, is believed to have been Dickinson.
Around the same time, the author and Amherst native Helen Hunt Jackson begged Dickinson to contribute a poem to a volume of anonymous verse:
"Would it be of any use to ask you once more for one or two of your poems, to come out in the volume of 'no name' poetry which is to be published before long by Roberts Bros.? If you will give me permission I will copy them—sending them in my own handwriting—and promise never to tell any one, not even the publishers, whose the poems are. Could you not bear this much of publicity? only you and I would recognize the poems." (L573a)
Dickinson's poem "Success is counted sweetest" does appear in A Masque of Poets (1878), though whether Dickinson actually gave advance permission is still in question.
In her later years, Dickinson enjoyed a romance with Judge Otis Phillips Lord, a friend of her father. He and his wife had been frequent guests at the Homestead. A widower when he began courting Emily Dickinson, Lord lived in Salem, Massachusetts. Drafts of letters to Lord suggest that the poet even considered marrying him, though she never did.
Dickinson's later life is marked by illness and death: her father's death in 1874, her mother's stroke in 1875, her nephew Gib's death at age eight in 1883, Otis Lord's death in 1884, Helen Hunt Jackson's death in 1885. The poet herself became ill shortly after her nephew Gib died: "The Crisis of the sorrow of so many years is all that tires me" (L873). She remained in poor health until she died at age 55 on May 15, 1886. She was buried four days later in the town cemetery, now known as West Cemetery.