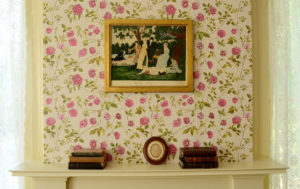 Joe Callahan carefully traced the rose's edges with his knife. Popping it from the sheet of unhung wallpaper, he walked across Emily Dickinson's bedroom, climbed a stepladder, and pasted it into the northwestern corner where the wallpaper's continuous pattern completed its loop. That applique, along with several leaves and other design elements he would hand paste in this final step of the process, helped merge the two edges so that they appeared seamless.
"You've got to have some tricks," he laughed.
With Callahan's work done, so was the two-year restoration of Emily Dickinson's bedroom.
Begun in 2013, the 200th anniversary of the Homestead, the bedroom restoration project concluded in August 2015. For museum visitors, stepping into Emily Dickinson's bedroom has always been a deeply memorable part of Homestead tours. The second floor room, with windows looking out to the South towards the Holyoke Range and West to Amherst's downtown, was Emily's safe haven, a creative space where she could escape from the world and turn her focus to the poetry and letters that have become an essential part of world literature.
Now, the experience is even more authentic.
"People of all ages, interests, and backgrounds come to the Emily Dickinson Museum to unravel the mystery of how this woman's seemingly ordinary existence generated such extraordinary poetry," said Emily Dickinson Museum Executive Director Jane Wald. "Restoring Dickinson's bedroom to its nineteenth century appearance will, we hope, offer fresh perspective on her daily life and honor her powerful legacy."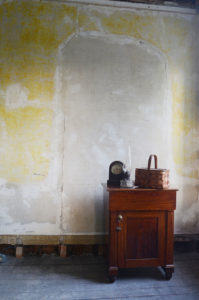 The Homestead underwent its most dramatic changes in 1855. Renovations included relocating the main staircase, which allowed doors to the second floor bed chambers to be pushed further down the hall. When modern wallpaper was removed in July 2013, the original location of the door opening to Dickinson's room was revealed (left). The original doorway had been sealed over with new plaster, and its outline stood out clearly from the yellow painted plaster from the 1813 walls.
It was purchased by the Parke family in 1916, then sold to the Trustees of Amherst College in 1965. The twentieth-century wallpaper and floorboards from that time were removed from Dickinson's bedroom, revealing clues to floor coverings, furniture placement, and room decor during the time of the Dickinsons's residence in the Homestead.

The wallpaper was based on nineteenth century wallpaper fragments that were found during the restoration (right), and recreated by Marylou Davis, Inc. of Woodstock, CT, and printed by Atlas Screen Process Company of Webster, MA. Paint samples from that era were also used to blend historically accurate colors.
The architectural research on the room was led by Mesick Cohen Wilson Baker Architects. Their previous work at the museum includes: developing the museum master plan and a historic structure report for the Evergreens. Much of the bedroom restoration work was done by Peter Hamm of Historic Preservation Associates of Wales, MA.
Thank you to the donors who made the bedroom restoration possible:
William McC. Vickery
Elizabeth Armstrong and John Armstrong, Barbara W. Hostetter and Amos B. Hostetter, Jr., Polly Longsworth and Charles R. Longsworth
Linda Alexander and Jim Alexander, Elaine J. Kachavos, Eleanor Parke and John Parke, Susan Pharr and Robert Mitchell, and Kenneth Rosenthal
Anita M. Arguello, Judith Averill, Gary K. Blume, Susan M. Dodd and David Davenport, Roxanne D. Gabriel, Richard W. Holt and Ann T. Holt, Deborah Jankowski, Sheila F. Klem and Charles Klem Jr., Wendy M. Kohler and Walter H. Kohler, Patricia J. Lutz, Phyllis A. Muska, Margaret Partner and Daniel Partner, Stanley J. Rabinowitz, Nancy Rehberg, Linda Smith, Suzanne L. Stuttman, Faythe E. Turner.